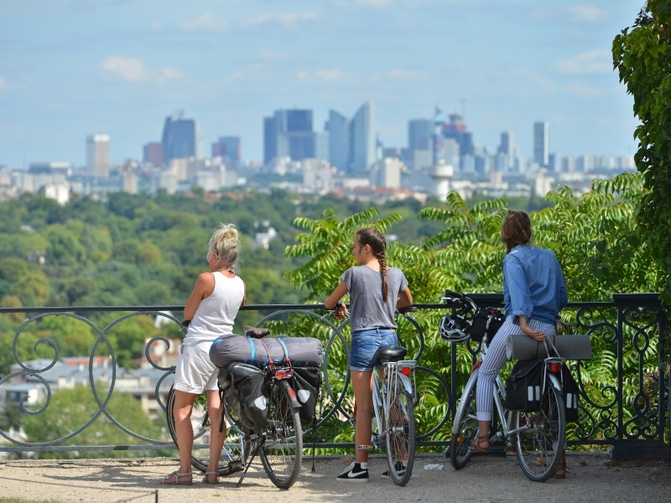 Saint-Germain-En-Laye, so close and so far from Paris
John works at
La Défense
, the big business center on the western side of Paris. As every morning to get to work, he takes the
RER A
to Saint-Germain-En-Laye and 20 minutes later hehe arrives to his destination.
John is French and English and has a multi-cultural family, his wife Helen is American. His son and daughter, are bilingual French-English. When they came to France for a transfer within his group in La Défense, John and his family wanted to have space for children, a calmer and more relaxing life, but also to enjoy outdoor activities as well as cultural. The weekend to enjoy this cultural wealth of Paris, his family often takes the RER (30 minutes from the center of Paris) or his car by driving on the many highways going to Paris.
The proximity of the forest allows them many jogging, hiking or biking. They take distance from Paris and its pollution. Furthermore, some weekend by the A13, it takes 2 hours to the beaches of
Normandy
without having Paris traffic jams.
For his 16-year-old daughter, he and his wife wanted to have a high school with a good American section. In Saint-Germain-En-Laye, the International High School with its 14 international sections is one of the best. His son, who is in primary school can also gets benefit of the "
Lycée International
" directly by integrating this institute which offer courses for children from 6 to 18 years old, or by choosing one of the locale primary school which have specific bilingual section in partnership with the "Lycée international" of Saint Germain en Laye.
So they moved into a house with a garden in the city of Fourqueux, a city near Saint-Germain-En-Laye. But many other choices have been offered to them in Mareil-Marly, Chambourcy, Etang-La-Ville or Saint-Nom-La-Breteche.
The area of Saint-Germain-en-Laye so close to Parisian activities and so far from the hassles of the big city (pollution, traffic jams, hustle and bustle, stress). The advantages without the disadvantages …
Thanks to a relocation company, they have find find the balance between work, family and leisure. When we do not know a region, infrastructures, schools, recreation …  It is sometimes difficult to choose. This choice is nevertheless essential for its integration into its new environment.
Let Us Do It proposes its
relocation services
(move-in assistance, housing, schooling, administrative procedures) and invites you to discover the west of Paris and all its advantages. Please
contact us
for more information.